As we start to draw nearer to the summer months, we thought it would be a great idea to pull together some DIY Fire Pit ideas.
Fire Pits are a great garden accessory, not only do they offer a characteristic focal point to the garden, they're also a great choice for outdoor heating. So for those summer evenings when you are entertaining guests, or simply enjoying time in your garden, check out some of these fire pit ideas to add some warmth when enjoying summer nights outside.
For more information on how to make these fire pits, we have added links to the websites we found so you can see the original content and more information on how to make them yourself.
1. Upcycled Washing Machine Drum Fire Pit
First up, the upcycled washing machine drum fire pit. We found this on a site called House and Fig, and apparently, it took under an hour to construct this DIY fire pit. What we love about this idea is how original it looks, but also, the small holes in the washing machine drum would make such a pretty light show when lit on an evening.
Find out more from House and Fig.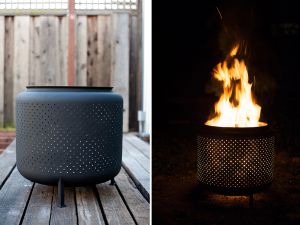 2. Concrete Fire Feature
Visually, this next one might just be our favourite! It may be a little harder to create but it definitely looks the part! We found this on the DIY Network site, click here to be taken there for all the information. For this firepit, the homeowners had an old metal fire bowl that they were going to throw away. Instead, they created a concrete frame, filled it with rock and set the fire bowl in place. From here they used decorative rock and slate to finish off the feature piece.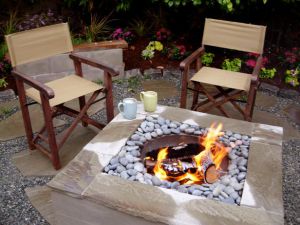 3. Fire Pit in 4 Steps
This next DIY fire pit is from a site called A Beautiful Mess, written by a lady called Laura who explains how to make this fire pit in just 4 steps. It is a very simple, clean design that is exactly what we would imagine when thinking about a fire pit.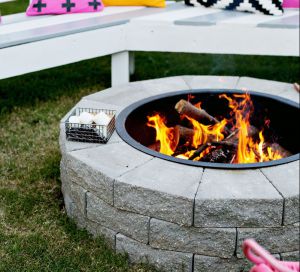 4. Framed Fire Pit
Moving on, our next find was from The Creativity Exchange, the fire pit really is the focal point here and we love how they have used decorative aggregates to frame the area. The fire pit looks less polished than the previous images, which almost makes it looks like a natural feature. Check out more on the Creativity Exchange.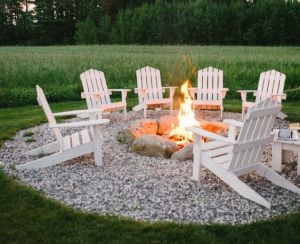 5. Miniature Fire Bowls
If you have a small outside space, Dunn Lumber DIY has a great idea for you. Here they created miniature fire pits that you could place all around your outdoor space. These fire pits use gel fuel, and even though they are small feature pieces, they still create enough heat to take the edge of the colder nights.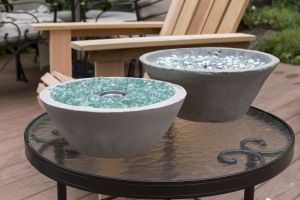 If you happen to give any of these a try or even make your own fire pit, send us your pictures so we can have a look!